Main article: Wikipedia:BDSM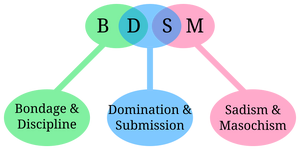 Torei is a world where practices we would think of as sexual kinks are the norm. Practices such as power exchange and various forms of bondage and fetishism are commonplace, and often occur right out in public.
Ad blocker interference detected!
Wikia is a free-to-use site that makes money from advertising. We have a modified experience for viewers using ad blockers

Wikia is not accessible if you've made further modifications. Remove the custom ad blocker rule(s) and the page will load as expected.